Meet AEHRC's Research Director, David Hansen
Find out what makes AEHRC's Research Director David Hansen tick.
This deep dive republished here from Health Services Daily reveals David's priorities, what excites him about digital health, and even his current favourite show.
---
Third degree with David Hansen

Why a former software engineer is addicted to his job as boss of the CSIRO's eHealth Research Centre.
David Hansen is the head of the Australian e-Health Research Centre – CSIRO's digital health research program.
Starting out his career as a software engineer, he's now digging deep into making AI safe and powerful for health outcomes and helping take some of Australia's technology advances to the rest of the world.
What do you love most about your work?
I'm really keen that we don't just do science and engineering for the sake of it. What I love is seeing it get used. I might not be actively doing the science or the engineering but seeing it adopted and used by industry is really amazing – I think there's something addictive about it. One of the realities of leadership roles is managing other people who are doing all the fun stuff but I love it when I'm talking to our scientists and engineers about their research, I get amazed every time about the great work we're doing.
What keeps you awake at night?
One challenge is to get adoption and change is hard in health. We've got a set of technologies, developed over many years, that the health system is now ready for. Many of these are at the point where we could see them implemented in a large way. However, it's not just not a matter of giving over the software, you've actually got to work with clinical groups and others around adoption. The next challenge is how do we keep in front? How do we keep doing the research to stay in front of the health system so that in five and 10 years we still have new offerings. You can get really caught up with making sure you deliver but you also have to make sure that we've got new stuff to deliver in five years. One of the ways CSIRO is doing that is to recruit the next generation of early career scientists. We've been lucky to have a bunch of young scientists who have come in over the last 12 months. I'm seeing their new ideas and they're really adding to what we've already got.
Where is the Australian e-Health Research Centre at strategically?
We've turned 20 this year and maybe hit middle-age and this is a bit of a sweet spot in terms of what we've got for the health system. When we first started, we were probably 10 years in front of where industry and health services were up to – projects like mobile health and the adoption of standard terminologies. With artificial intelligence, we were way in front but despite really good conversations with the health system, there wasn't the ability to work out how to deliver them in a widespread way. Now, we're seeing a lot of what we've done over the last 20 years and, in some ways, the health sector has caught up with us.
What are your focus areas this year?
Firstly, interoperability – a lot of the federal budget initiatives around My Health Record talked about data exchange and interoperability. We are also involved in some really great projects both in Australia and overseas with our Ontoserver licencing internationally. Another area, virtual care, is a huge one. Coming out of the pandemic we've had an increased demand. Obviously, we need interoperability for data to flow between patients and clinicians. We need to be able to deliver services remotely. The third key focus is artificial intelligence. We've been using AI technologies at CSIRO for 20 years. They're exciting and we work with them right across the AEHRC programme.
Tell us more about AI
It's pretty easy at the moment to run AI scare-stories. That the reality is that we all want to implement AI safely. We do believe that it can make a big difference in healthcare but it is a bit of the Wild West at the moment. We don't have the regulatory framework for our health departments. We're still trying to work out well, if someone might have developed an AI algorithm over the weekend, what do we do with that? We're pretty keen to create a solution and have been working on the Australian AI Alliance for Health with Professor Enrico Coiera from Macquarie University and Professor Karin Verspoor from RMIT University. We set up the alliance four or five years ago and we've got over 110 organisations and companies who have signed up and last year we produced a Roadmap for AI in Healthcare in Australia. Another part of CSIRO, the Data61 business unit, is running the national AI centre for the Department of Innovation, Science and Environment and Resources and we are hooking into their work around domains like responsible AI and ethical AI.
Wild card question: what shows are you binge watching?
Succession. It's just an incredibly well-made show. There's nothing believable about Succession except that these things probably happen. I don't have a favourite character either. They're all terrible people.
---
Find out more about the people behind the science at the AEHRC.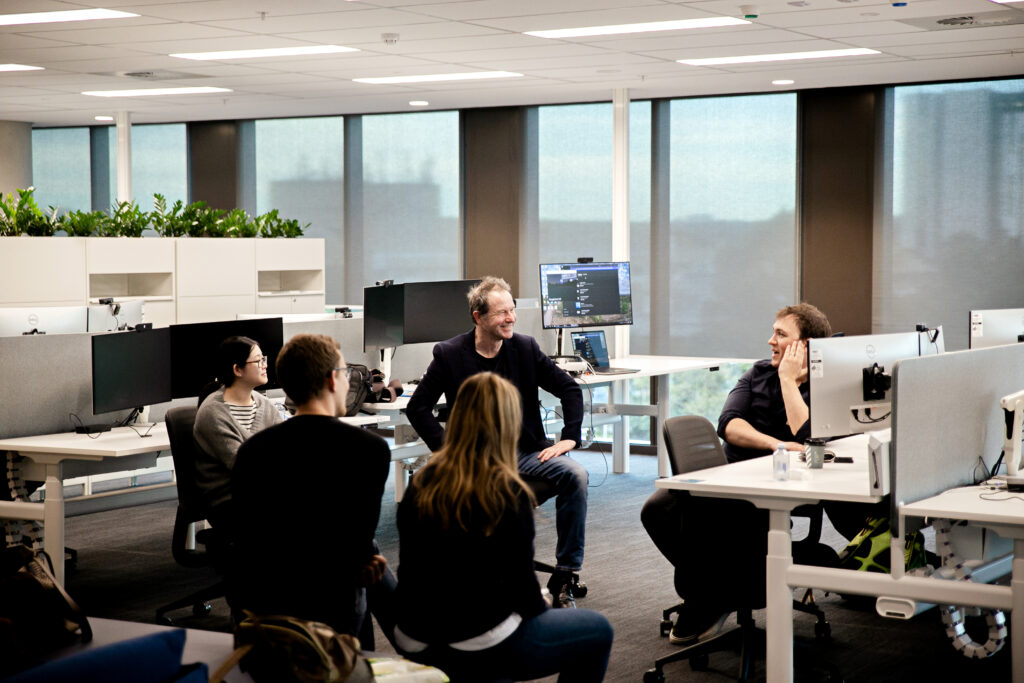 The Australian e-Health Research Centre (AEHRC) is CSIRO's digital health research program and a joint venture between CSIRO and the Queensland Government. The AEHRC works with state and federal health agencies, clinical research groups and health businesses around Australia.